Better health care is a global trend, with major disease crises often accelerating developments. In recent years, during the global Corona pandemic, research into effective protective measures has been carried out successfully under high pressure, and products such as masks have been massively improved, explains Max Leber, Managing Director of Berlin-based PPE Germany GmbH in an interview.
PPE Germany GmbH produces high-quality and certified FFP2 masks – Made in Germany – at its Berlin site, with a monthly capacity of approximately 45 million FFP2 masks. "By having our production site in Germany, we are taking precautions for future challenges such as the Corona pandemic. However, by having our production site there, we also want to safely ensure healthcare and nursing supplies during any supply chain problems that may arise," says Max Leber. 
Culprits: "Little animals" – droplets – viruses
Topics related to viruses and bacteria have occupied naturopathy, medicine and research for centuries. Even Hildegard von Bingen (1081-1179) assumed that "little animals" were making people sick. The official term viruses only came into being in the late 19th century as a biological entity. The description of viral diseases dates back to Aulus Cornelius Celsus in the 1st century B.C., and the discoverer of viruses is considered to be Adolf Mayer, who triggered viral pathogen transmission in 1882. "Historically, it is known that the issues surrounding protective measures not only preoccupied Hildegard von Bingen, but were further driven by terrible infestations," Max Leber classifies. In the Middle Ages, plague and cholera were rampant. Doctors in Italy and France first wore a grotesque-looking "plague mask" in the 17th century to protect themselves from infection when visiting the sick. Managing Director Max Leber adds that during the most horrific European-wide plague outbreaks, complete protective suits evolved as a complete disguise for the plague doctor. Since the 1990s, masks have not only been considered effective protection for healthcare personnel, but have also been justified as a precautionary measure in occupational safety, for example as dust masks.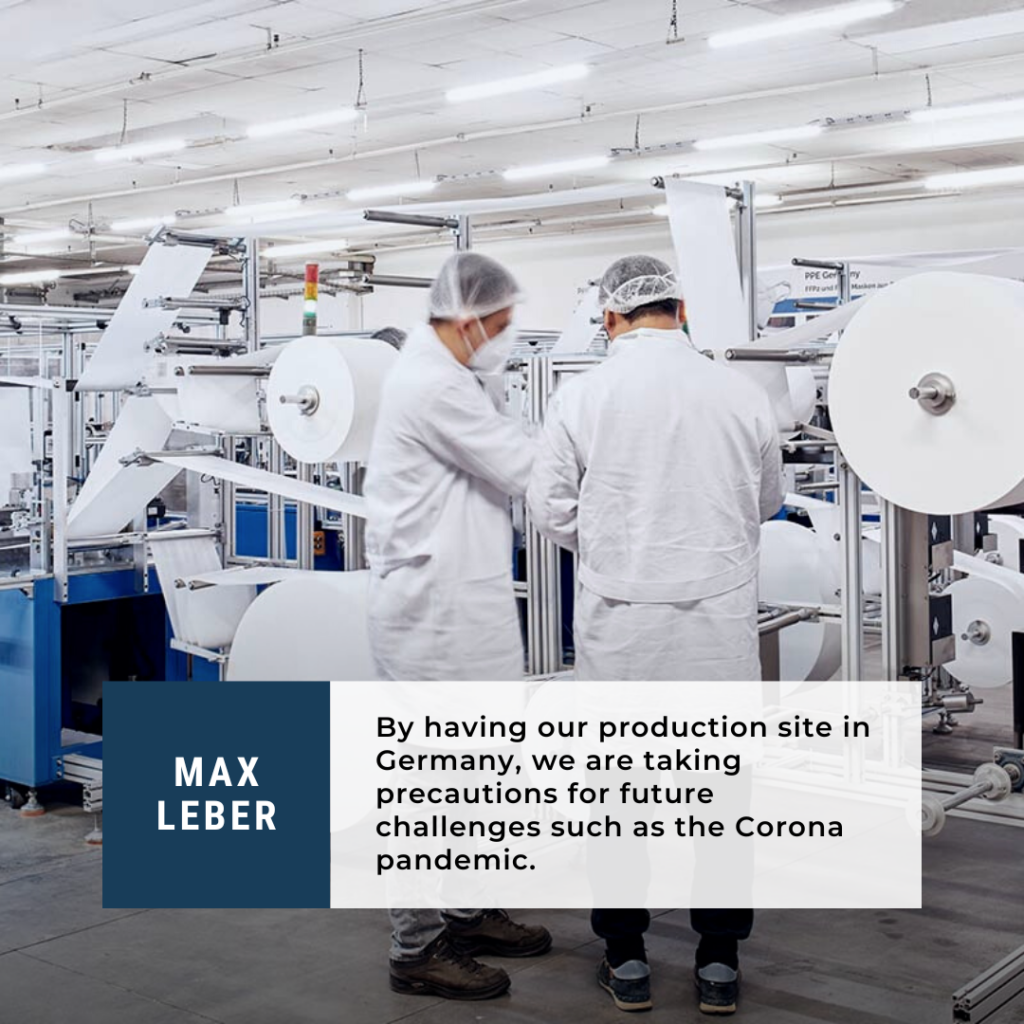 Infection Protection Act – obligation to wear a respirator mask 
The Infection Protection Act is an important legal basis that serves to prevent and contain the spread of contagious diseases. One of the most important protective measures that can be taken under the Infection Protection Act is the obligation to wear a respirator mask in certain situations. Max Leber praises the minimum "mask-wearing" standard because these masks are an indispensable tool, especially in doctors' offices, for preventing the spread of disease and protecting patients and medical staff.
Mask-wearing may be mandatory in certain regions or at certain events or facilities, such as public transportation, shopping malls, trade shows, or medical facilities such as doctors' offices or hospitals. "Mandatory masks have also been introduced for certain activities, such as nursing or catering, in the recent global pandemic," explains Max Leber. The Infection Protection Act even provides for fines for violations of the mask requirement in certain situations, such as on public transportation. Compliance with the mask requirement is therefore not only a question of personal protection, but also a social responsibility to curb the spread of infectious diseases. 
Respirator – particle-filtering half masks
Particle filtering half masks, known as FFP masks (English for Filtering Face Pieces) belong to the object of personal protective equipment within the framework of occupational health and safety, originally known as so-called dust masks in the field of crafts. During the Corona Pandemic, FFP masks were used as respirators throughout the healthcare industry. The purpose of the respirator is to trap droplets emitted when breathing, talking or coughing, thus minimizing the spread of viruses and bacteria. "Precisely because respirators are an important protective measure, they should be used correctly and replaced regularly to ensure their full protective effect," Max Leber points out. 
PPE Germany GmbH offers Dodo Air Medical, an innovation in the field of medical face masks. "The Corona pandemic has made it clear that medical personnel in particular need maximum protection. With the Dodo Air Medical, we achieve a 97 percent filtering performance with the special feature of low breathing resistance for particularly pleasant wearing comfort," explains Max Leber, adding that the particularly powerful filtering layer guarantees significant protection against harmful substances such as dust, smoke and aerosols, and all with certification for occupational health and safety. 
Keeping staff and patients safe is critical to patient care in all medical and nursing settings. Max Leber advises that the focus should be on the tolerability of masks for wearers, who wear appropriate respirators for sufficiently long periods in sensitive medical and nursing settings. Mask fatigue is therefore not an issue. 
V.i.S.d.P.:
Moritz Roland
OTA training & blogger
Moritz Roland, a graduate of the English boarding school Rossall School in Fleetwood, Great Britain, with the International Baccalaureate Diploma (IB). Moritz is in training OTA in healthcare. Moritz joined ABOWI-Reputation.com in 2022. He is particularly interested in the transformation of healthcare – putting people's health first – through technology, digitalization and Artificial Intelligence to holistic health from A–Z. The blog akopjan-health.de offers numerous topics around health and corporate health management. You can reach us at www.abowi-reputation.de 
Contact:
PPE Germany GmbH
Mertensstr. 63-115
13587 Berlin
Germany
Tel: +49 30 202366380
Email: anfrage@ppegermany.de
Web: https://ppegermany.de 
Contact: Max Leber, GF and Sales
Press contact:
PPE Germany GmbH
Mertensstr. 63-115
13587 Berlin
Germany
Tel: +49 30 202366380
Mail: presse@ppegermany.de
Web: https://ppegermany.de 
Company Description:
PPE Germany GmbH, based in Berlin, are specialists in respiratory protection Made in Germany. PPE Germany is one of the major European mask producers for high quality FFP2 masks and started production in 2020 to ensure the supply of protective equipment to the population. PPE Germany protects the health of people who have to work and live in complicated air conditions for example from Viral contamination, Hospital germ contamination, Bacterial contamination, Dust, Fibers (e.g. from mineral wool), Industrial fumes, Fine dust. All PPE Germany products are certified and subject to the most stringent testing standards. For more information, visit: https://ppegermany.de