FFP3 masks as effective health protection during woodworking, health hazards due to wood dust – oak and beech wood dust can lead to cancer of the nasal mucosa – occupational safety with personal protective equipment (PPE).
Who does not know that when entering a wood turner's workshop, one's breath is taken away because of the enormous amount of dust generated during turning and grinding. Woodworking can lead to high levels of dust exposure due to fine dust and pollutants, which can cause serious damage to health. Those who expose themselves to wood dust without protection run the risk of health impairments and illnesses. From inflammations to severe diseases of the upper and lower respiratory tract if wood dust is increasingly inhaled. Rules and regulations on personal protective equipment (PPE) apply to all aspects of occupational health and safety, including industries where employees are exposed to wood dust. Hobby artists and craftsmen should not neglect health protection. Wearing certified masks in the hobby workshop is advisable. Appropriate protective equipment is recommended to protect against hazards in woodworking.
What the woodworm loves poses a danger to humans
Numerous studies and surveys show that wood dust can lead to pneumoconiosis, inflammation of the lung tissue, oedema formation in the respiratory tract and cancer development. For example, oak and beech wood dust promotes cancer in the nasal mucosa. These health hazards can be minimised by wearing FFP3 masks; personal protective equipment is mandatory under occupational health and safety regulations. The limit values in the air at the workplace for wood dust are 2.0 milligrams per square metre, measured in the inhalable fraction. The dangers of wood dust lie in particular in the minimal size of the dust particles, which easily enter the respiratory tract and lungs without protection. In addition, the mucous membranes react toxically to the unwanted foreign bodies in the long term. The substances contained in wood, such as tannic acids, unsaturated aldehydes or released mould spores, can trigger allergies, rhinitis and even asthma. When working with wood products, other toxins such as copper salts, lead or formaldehyde can also be released and inhaled as wood dust.
Respirators – 'Filtering Face Piece' – Particle Filtering Half Masks (FFP)
There are different types of respirators that can be used for woodwork. Particle filtering half masks (FFP masks) are divided into three protection classes, FFP1, FFP2, FFP3. Which FFP mask is used as respiratory protection is determined by the factor of the so-called occupational exposure limit.
For the use of FFP1 masks, the occupational exposure limit is exceeded by up to four times and the mask filters up to 80 per cent of all pollutants that are fundamentally non-toxic and water- and oil-based. The FFP1 mask is mainly used in the food industry. FFP2 masks have become widely known and used due to their use in the Corona pandemic. FFP2 masks must have a filtering performance of up to a maximum of 94 per cent of toxic water- and oil-based pollutants and are used in environments with up to ten times the concentration of pollutants.
FFP3 masks offer particularly high protection against fine dust and water- and oil-based pollutants that are harmful to health, carcinogenic or radioactive. They filter up to 99 per cent, are made of high-quality filter material that can filter particles down to a size of 0.6 micrometres. This corresponds, for example, to the size of small wood particles produced during sawing, sanding or painting.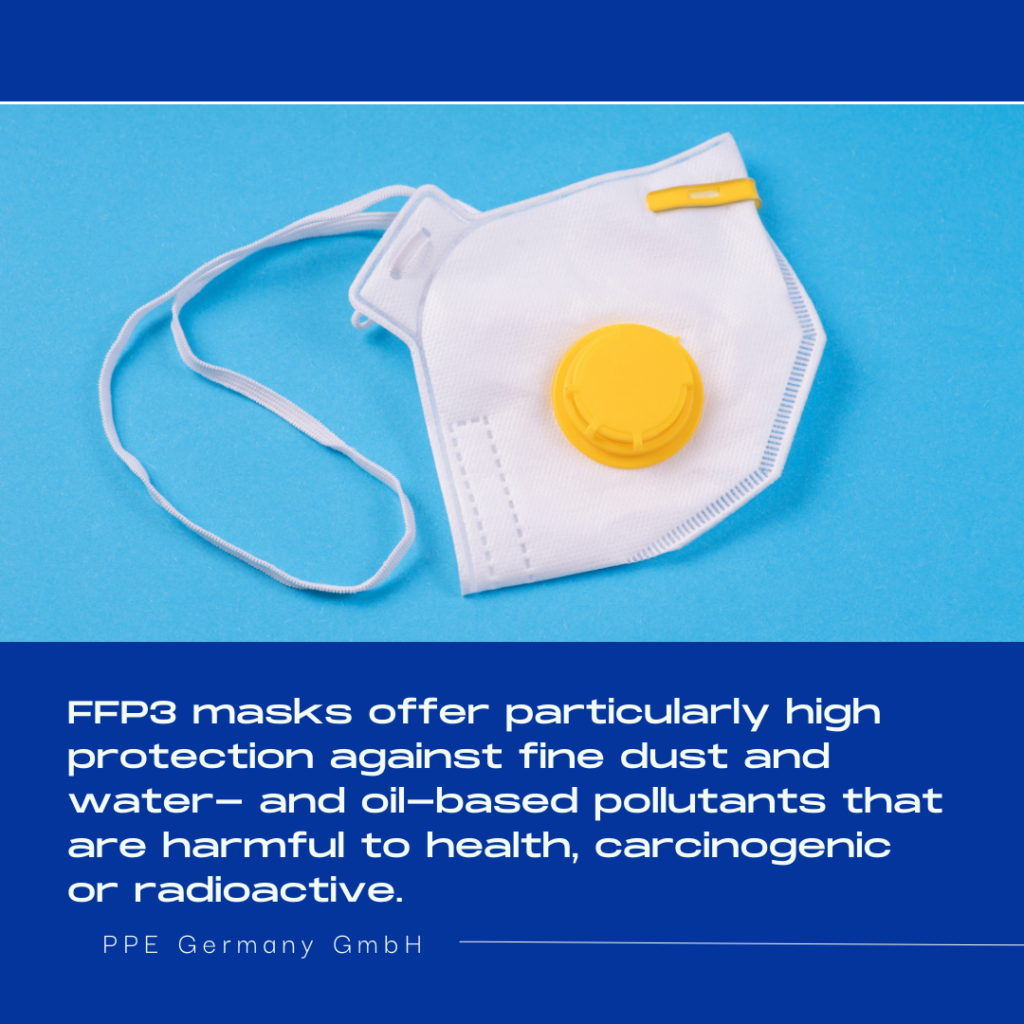 Essential protective equipment
An FFP3 mask is essential protective equipment for woodwork. The mask provides reliable protection against hazardous particles and pollutants and is particularly suitable for activities such as sawing, sanding or painting wood.
Correct handling of respirators
For the correct wearing and use of mouth-nose masks, the Federal Institute for Drugs and Medical Devices recommends the following handling:
Wash or disinfect hands with soap for 20 seconds before and after putting on and taking off the mask.
Place the mask over the mouth, nose and cheeks; it must fit tightly at the edges.
When removing and disposing of the mask, do not touch the outside of the mask, but grasp it by the straps. Medical face masks and particle filtering half masks are disposable.
It is important to wear masks correctly for optimum protection and to change them regularly. No one should underestimate types of dust and their effects. Occupational airborne exposure limits are regulated for mineral and quartz dusts, wood dusts and dusts with microbiological contamination to protect relevant occupational groups and their hazardous activities.
V.i.S.d.P.:
Max Leber
Managing Director and Sales
PPE Germany GmbH
Contact:
PPE Germany GmbH
Mertensstr. 63-115
13587 Berlin
Germany
Tel: +49 30 202366380
Email: anfrage@ppegermany.de
Web: https://ppegermany.de
Contact: Max Leber, GF and Sales
Press contact:
PPE Germany GmbH
Mertensstr. 63-115
13587 Berlin
Germany
Phone: +49 30 202366380
Mail: presse@ppegermany.de
Web: https://ppegermany.de
Company Description:
PPE Germany GmbH, based in Berlin, are specialists in respiratory protection Made in Germany. PPE Germany is one of the major European mask producers for high quality FFP2 masks and started production in 2020 to ensure the supply of protective equipment to the population. PPE Germany protects the health of people who have to work and live in complicated air conditions, for example viral contamination, hospital germ contamination, bacterial contamination, dust, fibres (e.g. from mineral wool), industrial fumes, fine dust. All PPE Germany products are certified and subject to the strictest testing standards. More information at: https://ppegermany.de
FAQs:
1. How long can I wear an FFP3 mask from PPE Germany GmbH?
An FFP3 mask from PPE Germany GmbH should be worn for a maximum of eight hours. After this time the effectiveness of the mask may be impaired and the wearer may experience unpleasant symptoms such as headache or dizziness due to moisture and perspiration. If the mask is damaged or dirty, it should be replaced immediately.
2. How should I store my FFP3 mask correctly?
A PPE Germany GmbH FFP3 mask should always be stored in a clean, dry and well ventilated area to maintain its effectiveness. Avoid direct sunlight or too much moisture to prevent contamination and mould growth. When not in use, the mask can be stored in an airtight bag. Before use, the mask should be carefully inspected to ensure it is still intact.
3. Can an FFP3 mask from PPE Germany GmbH protect against viruses?
An FFP3 mask from PPE Germany GmbH is specially designed to filter particles such as fine dust and pollutants. Although it may have some protective effect against viruses, it is not designed to protect against viruses. To protect against COVID-19 and other viral diseases, it is advisable to take additional measures such as regular hand washing and observing distance rules.